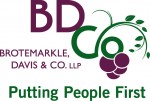 Brotemarkle Davis & Co., LLP (BDCo), a St Helena accounting and advisory firm specializing in the wine and hospitality industries, today announced it will be offering a new class for winery financial people on October 17 at 8:30 am. Aimed at helping these professionals more effectively share financial information with non-financial people, the course is free to members of the Napa Valley Vintners Association (a $300 value).
"Finance professionals hold the keys to the winery business. They have critical information that can make or break a winery but all too often they don't get a chance to share it." said Craig Underhill, BDCo's Emperor of Enlightenment. "We want to help these important professionals connect the numbers to the people and activities that lead to financial results."
To learn more about the class or to register, call 707-963-4466 or visit the website http://www.bdcocpa.com/services/education-center .
BDCo, which offers training and coaching on topics related to improving winery business results, works with the people and processes behind the numbers to improve the bottom line.