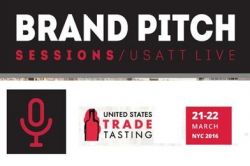 USA Trade Tasting (USATT) has announced the addition of 16 'Brand Pitch' match making sessions to connect wine, beer and spirits suppliers with distributors and importers.
As part of the line-up of innovative services being offered at USATT, 'Brand Pitch' is a new program being extended to beverage brands looking for import and distribution partners in the USA. The sessions give label owners the chance to pitch vetted buyers who are ready to add new brands to their portfolio in a personalized setting.
"Business at trade shows in the adult beverage industry has stagnated in recent years and we wanted to address the problem at its core," said Sid Patel, CEO of Beverage Trade Network and USA Trade Tasting. "That's why we developed all eight Brand Pitch sessions to be custom tailored to fit the needs of representatives on both sides of the table. We wanted to see real demand and supply scenarios that actually work, se we paired importers and distributors looking to source new brands with labels that suit their buying requirements."
Each 1-hr meeting will focus on specific needs across the industry. International brands will be paired with importers and established brands in the US will be showcased in front of state distributors. The personalized engagements give small and medium brand owners the opportunity to pitch their brands in front of 30 buyers in an engineered scenario geared towards developing partnerships with some of the industry's most established companies. Please visit USATT 'Brand Pitch' program for more information.
USA Trade Tasting is brought to you by Beverage Trade Network – the leading online platform dedicated to connecting the global beverage industry.
About Beverage Trade Network: Beverage Trade Network (BTN) is an online marketing and B2B networking platform servicing suppliers, buyers and beverage professionals in the global beverage industry. BTN provides business and sourcing tools for industry buyers and brokers as well as an extensive selection of services for suppliers to drive brand awareness and expand distribution. More information at www.beveragetradenetwork.com
About USA Trade Tasting: USA Trade Tasting (USATT) is an annual trade tasting and business conference, open to trade professionals only, which takes place on March 21-23, 2015, at the Metropolitan Pavilion, in New York City, USA. USATT showcases exciting wines, beers and spirits from all over the world to USA importers, wholesalers, distributors, retailers and press. More information at www.usatradetasting.com