Sponsored by:

---
---
---
Sponsored By:

---
---
---
SPONSORED BY:
---
---
TO UNSUBSCRIBE:
Click >> [UNSUBSCRIBE] <<
To SUBSCRIBE CLICK HERE
SPONSORED BY:

ALSO SPONSORED BY:

---
DAILY NEWS FETCH - August 25, 2015

CREATED BY
WINE INDUSTRY INSIGHT
& MADE POSSIBLE BY OUR SPONSORS
Editor & Publisher, Lewis Perdue. Assistant Editor, Becca Yeamans-Irwin
To SUBSCRIBE CLICK HERE To UNSUBSCRIBE
: Click [UNSUBSCRIBE] .
CHANGE YOUR EMAIL:
Here
.
NEWS FETCH ARCHIVE:
Here
---
Sponsored by:

AND

---
TODAY'S TOP NEWS
Legal weed clobbers wine and spirits in Colorado. Scroll down to Daily Data to find out just how bad the alc bev market has gone to pot.
BLACK MONDAY
GLOBAL WINE SUPPLY
CALIFORNIA BRIEFS
DROUGHT/WATER
SCROLL DOWN FOR MORE TOP NEWS
---
Sponsored By:
Sponsored By:
Sponsored By:
---
---
DIRECT SHIPPING & PRIVATIZATION
FINANCE, M&A
INVESTING IN WINE, COLLECTING & AUCTIONS
ALCOHOL, HEALTH, AND THE FRENCH PARADOX
REGULATION & LEGAL MATTERS
INDUSTRY DATA & TRENDS
WINE SELECTION AND RECOMMENDATION
MARKETING & SALES
PACKAGING, LABELS & CORKS
SCROLL DOWN FOR MORE NEWS

---
Sponsored By:

---
THE FOLLOWING IS SPONSORED CONTENT

---
SOCIAL MEDIA & TECH
PAYMENTS
MEDIA MATTERS
MATTERS OF TASTE
WINE PLACES
NORTH AMERICAN REGIONAL WINE NEWS
ACADEMIA
ENVIRONMENT & SUSTAINABILITY
AG, GROWER & CELLAR NEWS
---
---
EUROPE & THE UK
DOWN UNDER
NOT JUST FOR THE TRADE
OLIVE OIL
CRAFT BEVERAGES: BEER, CIDER, WINE & SPIRITS
---
SPONSORED BY:

---
GIVE US THIS DAY OUR DAILY DATA
Wine & spirits go to pot in Colorado. Wine Industry Financial Symposium to look at market effects of legal weed
A preview from "Share of Buzz From a Colorado Perspective" to be presented at the 24th annual Wine Industry Financial Symposium by Jim Smith, Director, Government and Community Affairs, Republic National Distributing Company

Smith: "After 12 years of Medical Cannabis in Colorado we are just now starting to understand the impact on beverage alcohol .

"With the new legalized Recreational Cannabis that started in 2014 we understand the more complex factors associated with consumer changes and the demographics that drove these changes.

Legalized Cannabis is here to stay and we need to better understand how it has and will continue to affect our industry and what we can and need to do to compete in this new environment."
---
NEWS FETCH PLAYLIST:
While creating this issue:

Becca liked this song the best: Bang Bang (My Baby Shot Me Down) by Nancy Sinatra

Lew liked this song the best: Smuggler's Blues by Glenn Frey
---
TODAY'S FEATURED WINE
Lewis Perdue's Rating of Aldrich Browne: Syrah: Mendocino Ridge - Mendocino County - California: Mariah Vineyard: 2009: United States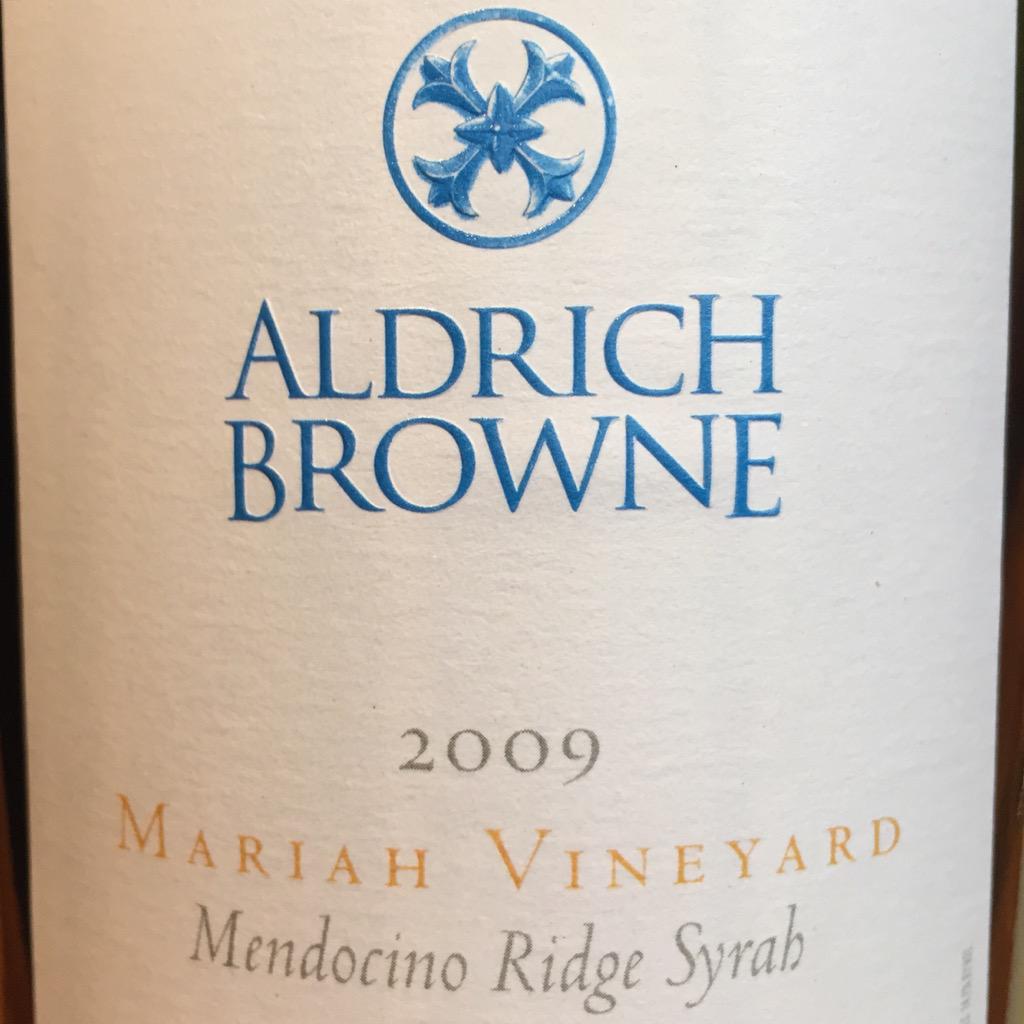 A masterful Wallenda balance between fruit, tannin and oak … prominent dark berry fruit without being overly forward. Not big in body, but deep and long on taste.

Aging really well. Sold out now, but was $40 when released.


WINE REVIEW POLICY: For winery tasting samples, gifts from friends or family or samplings at a party or event, review it truthfully, but only if I like it. If I have paid my own very-hard-earned money on a bottle, the gloves are off and it gets what it deserves ... whether perfect or puerile.

Please click this link to check out Lewis Perdue's wine preferences.
---
This NewsFetch was hand-crafted for you by Editor/Publisher Lewis Perdue and Assistant Editor, Becca Yeamans-Irwin. Visit Becca's website at The Academic Wino.
---
More of Lew's images -- labels and more -- at lewisperdue_author
---
To UNSUBSCRIBE
: Click [UNSUBSCRIBE]

To SUBSCRIBE CLICK
HERE