---
---
---
TO UNSUBSCRIBE:
Click >> [UNSUBSCRIBE] <<
To SUBSCRIBE CLICK HERE

SPONSORED BY:



ALSO SPONSORED BY:

---
DAILY NEWS FETCH - July 15, 2015

CREATED BY
WINE INDUSTRY INSIGHT
& MADE POSSIBLE BY OUR SPONSORS
Editor & Publisher, Lewis Perdue. Assistant Editor, Becca Yeamans-Irwin

To SUBSCRIBE CLICK HERE To UNSUBSCRIBE
: Click [UNSUBSCRIBE].
CHANGE YOUR EMAIL:
Here
.
NEWS FETCH ARCHIVE:
Here
---

AND

TODAY'S TOP NEWS
Just how fast are US cider sales skyrocketing? Scroll down to Daily Data to find out.

CALIFORNIA BRIEFS Sponsored by:
DROUGHT/WATER
SCROLL DOWN FOR MORE TOP NEWS
---
Sponsored By:
Sponsored By:
Sponsored By:
---
---
RECYCLED WASTEWATER
PUBLIC COMPANIES
DISTRIBUTORS
INVESTING IN WINE, COLLECTING & AUCTIONS
ALCOHOL, HEALTH, AND THE FRENCH PARADOX
Click the link above for more news, articles and archives.
REGULATION & LEGAL MATTERS
INDUSTRY DATA & TRENDS
MARKETING & SALES
SCROLL DOWN FOR MORE NEWS
THE FOLLOWING IS SPONSORED CONTENT
---
PACKAGING, LABELS & CORKS
SOCIAL MEDIA & TECH
PAYMENTS
MEDIA MATTERS
MATTERS OF TASTE
WINE PEOPLE
WINE PLACES
NORTH AMERICAN REGIONAL WINE NEWS
ACADEMIA
---
ENVIRONMENT & SUSTAINABILITY
AG, GROWER & CELLAR NEWS
EUROPE & THE UK
DOWN UNDER
AROUND THE GLOBE
NOT JUST FOR THE TRADE
OLIVE OIL
CRAFT BEVERAGES: BEER, CIDER, WINE & SPIRITS
---
SPONSORED BY:



GENERATE MORE BUSINESS


FOR YOUR COMPANY



Advertise in News Fetch - Our 22,100+ daily subscribers make the decisions you need for better profitability.

News Fetch has the largest subscribership of any wine industry newsletter run by professional, ethical journalists.

No advertorials, no hidden adverts disguised as objective articles.

Straight-forward, honest news with the lowest ad rates makes us your most credible, best value.

Go here to learn how you can help your business grow by associating your ad with the highest quality ethical journalism. You can also email Editor & Publisher Lewis Perdue

---
GIVE US THIS DAY OUR DAILY DATA
Just how fast are US cider sales skyrocketing?
---
NEWS FETCH PLAYLIST:
While creating this issue:

Becca liked this song the best: 3 Gymnopedies (arr. A. Miolin): Gymnopdie No. 1 by Anders Miolin, Erik Satie
Lew liked this song the best: Carmina Burana, scenic cantata for soloists, choruses & orchestra~O Fortuna by Boston Pops Orchestra
---
TODAY'S FEATURED WINE
Lewis Perdue's Rating of St. Anne's Crossing: Zinfandel: Dry Creek Valley - Sonoma County - California: Split Rail: 2011: United States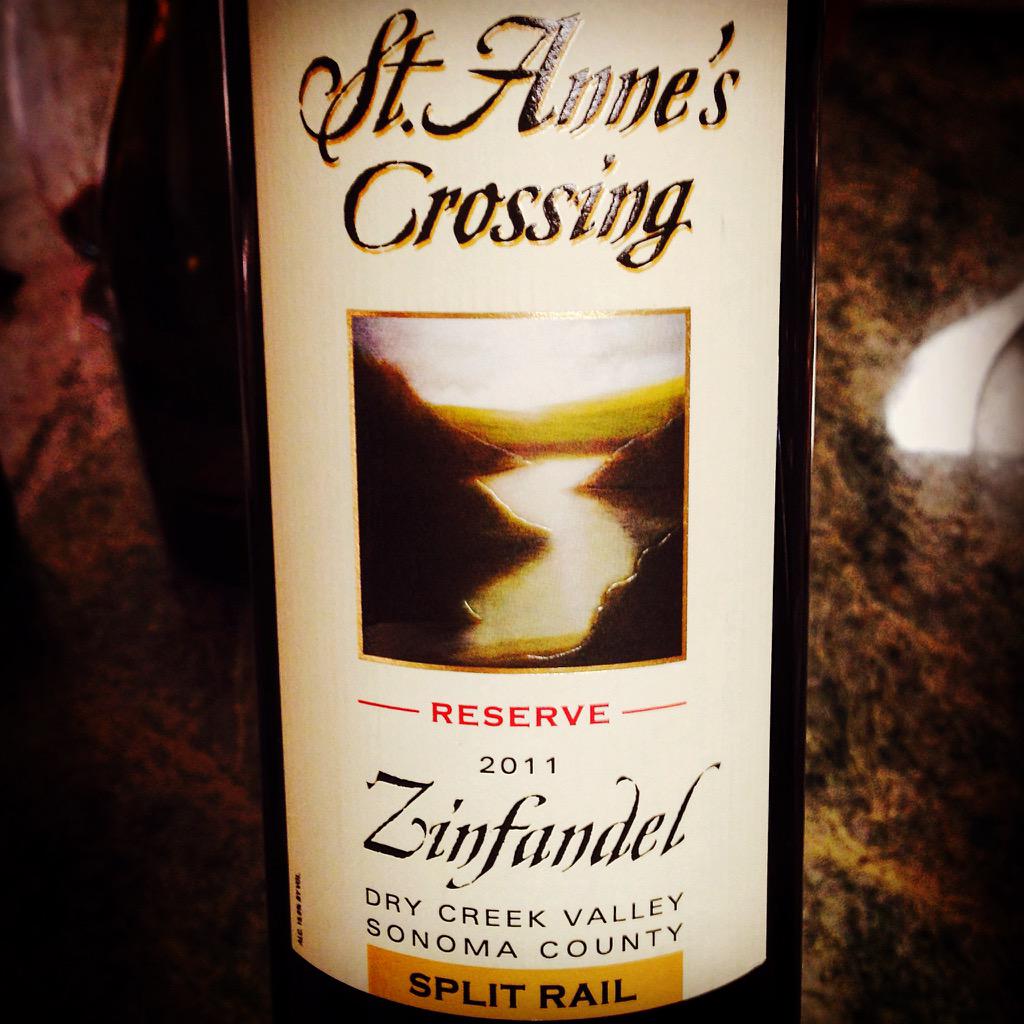 Big, deep, inky enough to fill a fountain pen with. Forward raspberry/black cherry fruit balanced with raucous tannins and mellowed by faint caramel notes from the oak. $50.

HEADS UP!
Lew is sick of wasting most of his wine dollars on stuff he pours down the drain.

Will Buy No Wine Before He's Tried 'Em

So, for now on, Lew is not going to buy anything he has not tasted first.

Lew doesn't get many tasting samples, so this new direction means that you will see an increase in the number of different wines he buys from a single winery.

You can click this link to check out Lewis Perdue's misfit wine palate.
REVIEW POLICY:
The old review policy still holds -- For winery tasting samples, gifts from friends or family or samplings at a party or event, review it truthfully, but only if I like it. If I have paid my own very-hard-earned money on a bottle, the gloves are off and it gets what it deserves ... whether perfect or puerile.
---
This NewsFetch was hand-crafted for you by Editor/Publisher Lewis Perdue and Assistant Editor, Becca Yeamans-Irwin. Visit Becca's website at The Academic Wino.
---
More of Lew's images -- labels and more -- at lewisperdue_author
---
To UNSUBSCRIBE
: Click [UNSUBSCRIBE]

To SUBSCRIBE CLICK
HERE
SPONSORED BY:
---
---
---
---
sponsored by:
---
---
================= CONTACT DATA ====================
Lewis Perdue
670 W. Napa St., Suite H, Sonoma, CA 95476
Phone: 707-326-4503, fax: 707-940-4146
Email:
lewis.perdue@wineindustryinsight.com